L's Art Club - Exploring Ink - an at-home workshop kit (single box)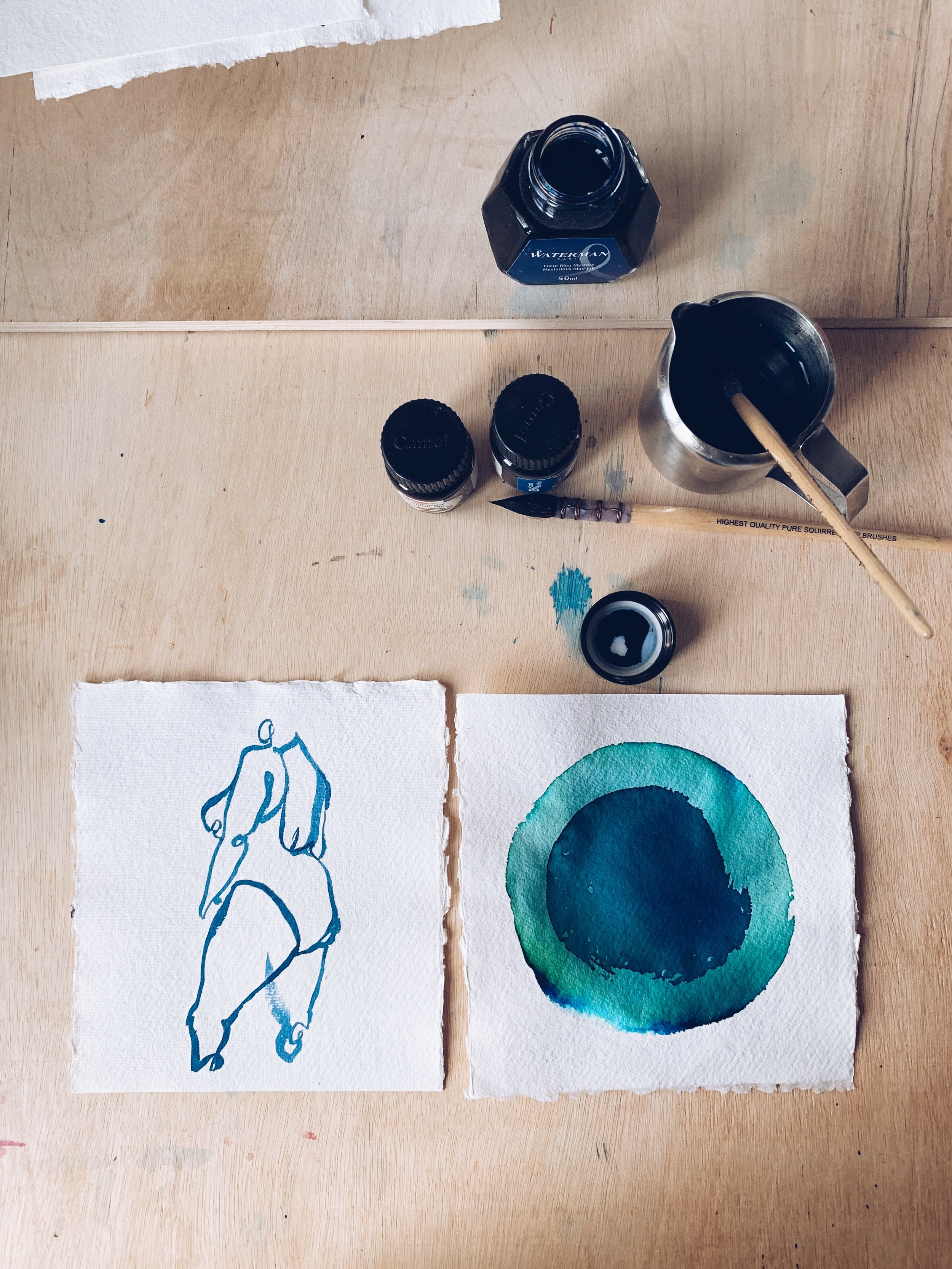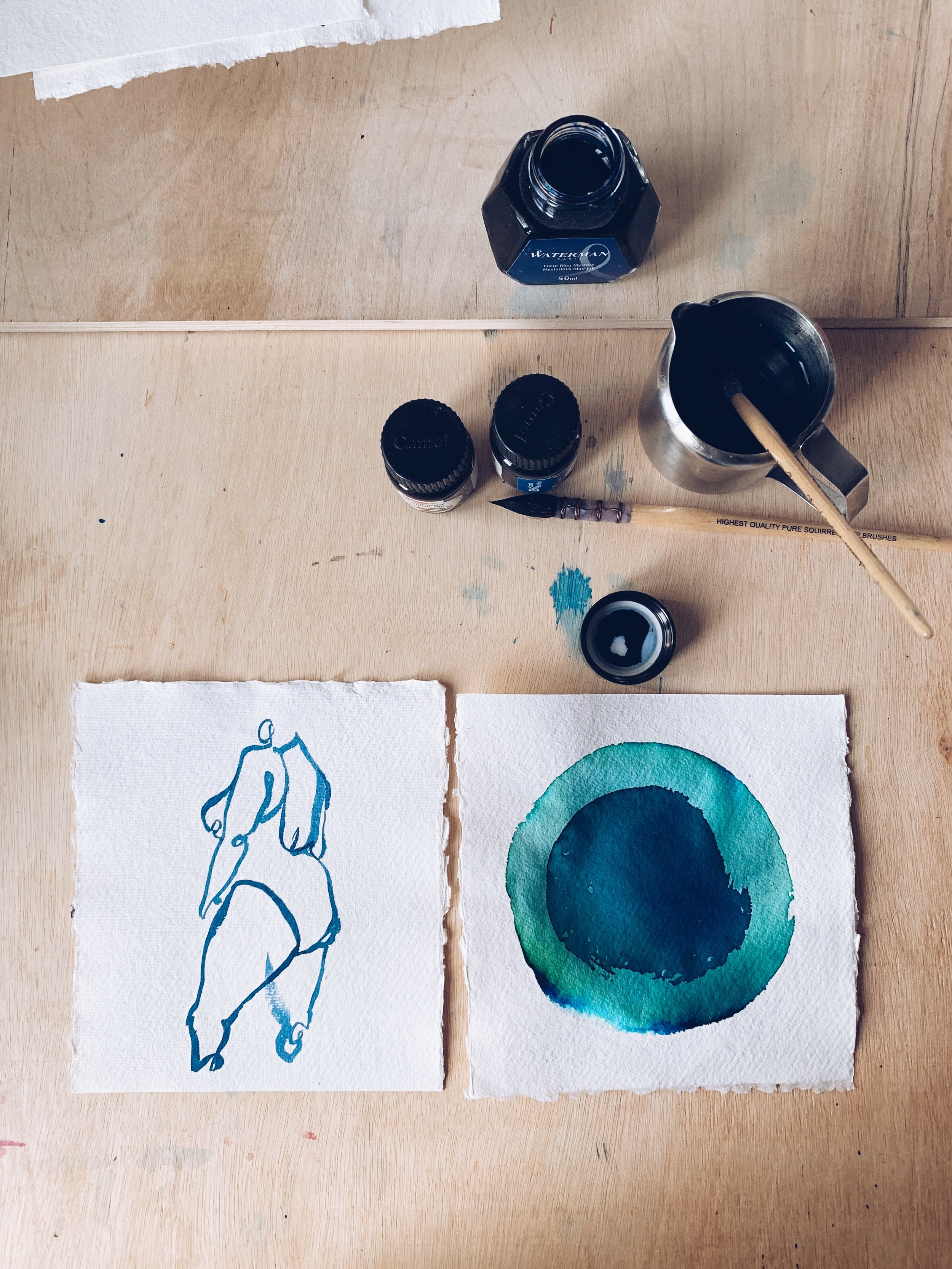 L's Art Club - Exploring Ink - an at-home workshop kit (single box)
Having practised my art and developing ink as my signature material I have put together this box based on the first subscription box I made at the start of L's Art Club. This box provides a comprehensive in-depth introduction to ink, so if you are only interested in learning how I use ink, then this is the box for you!
What can I expect in this box?
Inks - several bottles in different colours, various papers and an A5 sketchbook in a hard case.
A couple of brushes, a pencil, a pen and a compressed watercolour pencil.
A presentation box to keep everything together, reference material and a detailed guide created by me with teachings, techniques and sample drawings.
This box includes the 'Welcome Gift' which subscribers receive upon sign up.
What is L's ART Club?
An at-home, at-your-leisure drawing club, with guidance, notes, hints and tips to enable you to explore drawing as a pastime.
L's Art Club now encapsulates all of my teaching offerings which also includes:
Subscription boxes: Every other month you will receive a hand-picked pack of art materials, reference objects or imagery and a guide to using the materials and techniques to explore, written by myself. You can sign up for as long as you like, or for just one pack. If you wish to subscribe to L's Art Club instead, purchase your subscription by clicking here.
Workshops: At selected locations throughout the year.
Who can use this?
Anyone and everyone! Whether you have lots of experience but put away your 'brushes' some time ago, or just have a curiosity to try something new. The pack is easy to use and aims to provide a mindful experience and an introduction to a variety of different art materials.
Do you ship worldwide?
YES!
Can I gift this?
Yes, please provide the name of the recipient (or yours) when prompted at check-out and I will send this directly addressed to your recipient.
Can I purchase this for my child?
Yes! There is a package for under 16's and over 16's, although the children's pack is aimed at older children, or those with an avid curiosity in art. Not recommended for under 7's.
Can I order more materials?
Not individual items, but you will receive a list of the items in each pack and an easy website link to access them all in one place.
What makes this different?
I want to provide the experience that anyone who attends one of my workshops would receive, but within the comfort of home. Many of you can't travel to London, some can't make the dates, and I can't teach workshops all the time. I hand-pick all the materials, provide you with a little bit of background on the material and guide you through using them. I provide materials I know how to use myself providing you with informed advice and techniques I have tried.
What happens if I get stuck?
You will have access to a Facebook group where you can ask questions, share your drawings where I can discuss further techniques and ideas with you.
If you don't have access to Facebook to join the group, or are purchasing this for anyone under 16, you can email me anytime and I will try to respond within 48 hours. There will also be exclusive access to a member area on my website which will detail everything in each box and access to Pinterest boards and ideas to compliment. I have also set up an instagram profile for updates and info to do with workshops and all my teachings - @thislakshmi.art.club
If you need more help just get in touch hello@thislakshmi.com.
Enjoy!
(Please allow two weeks for delivery as each box is packed to order)